NVERS and National Preparedness Month: A Roadmap for Seniors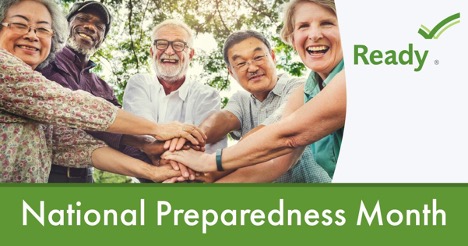 September marks the beginning of National Preparedness Month, an annual campaign that underscores the importance of readiness and safety in the face of emergencies. This year's theme of "Take Control in 1, 2, 3" is focused on empowering everyone, especially older adults to 1) assess their needs, 2) make a plan and 3) engage their support network to stay safe when disaster strikes. The Northern Virginia Emergency Response System (NVERS) recognizes that preparedness is a universal imperative, and this holds especially true for older Americans who often encounter greater risks during extreme weather events and emergencies, especially if they are living alone, are low-income, have a disability, or reside in rural areas.
Assess your needs. If you have medications that need refrigeration, rely on mobility or assistive devices, or have a pet, you'll need to understand how these variables will factor into staying safe in a disaster or emergency.
Make a plan. Once you assess your needs, you can tailor your family's preparedness plan to make sure your needs are met. ReadyNova offers comprehensive resources, including a 5-step comprehensive Family Preparedness Planning tool. Once completed, the NVERS-supported tool can be downloaded and printed to keep with your important personal or family documents.
Engage your support network. Reaching out to family, friends, and neighbors can help you build a network that can support you before, during and after a disaster or emergency. Share each aspect of your emergency plan with everyone in your group, including a friend or relative in another area who would not be impacted by the same emergency who can help if necessary. Ensure your network knows how you plan to evacuate your home or workplace and where you will go in case of a disaster. Practice your plan with those who have agreed to be part of your personal support system. If you're an older adult or work with and support older adult communities visit Ready.gov/older-adults for resources.
National Preparedness Month serves as a reminder of the importance of preparedness for all Americans. By following the "Take Control in 1, 2, 3" steps and utilizing the Ready NOVA planning resources, older Americans can enhance their preparedness and resilience, for a safer and more secure future.