Fire department: Don't call 911 to ask about snow plows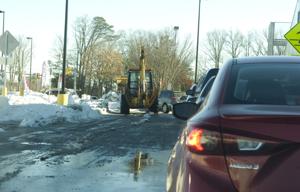 1 image
Traffic is tied up as contractors work to clear streets in Noth Stafford on Sunday afternoon.
Prince William County's 911 call center is getting a lot of calls – for non-emergencies.
As the region digs out from the historic weekend blizzard, people are calling to ask about road conditions and when their streets will be plowed.
"911 is only to be used for reporting emergencies," Prince William fire and rescue Chief Kevin McGee said. "In order for first responders to assist those in dire need, communication lines at the 911 call center must be readily available. Any non- emergency calls received will delay the center's action in dispatching first responders to assist citizens resulting in the endangerment of others that may be a life and death situation."
Questions about the status of roads and snow plowing in neighborhoods should be directed to the Virginia Department of Transportation (VDOT) athttp://vdotplows.org or call 1-800-For Road (1-800-367-7623).
To read the full article, click here.